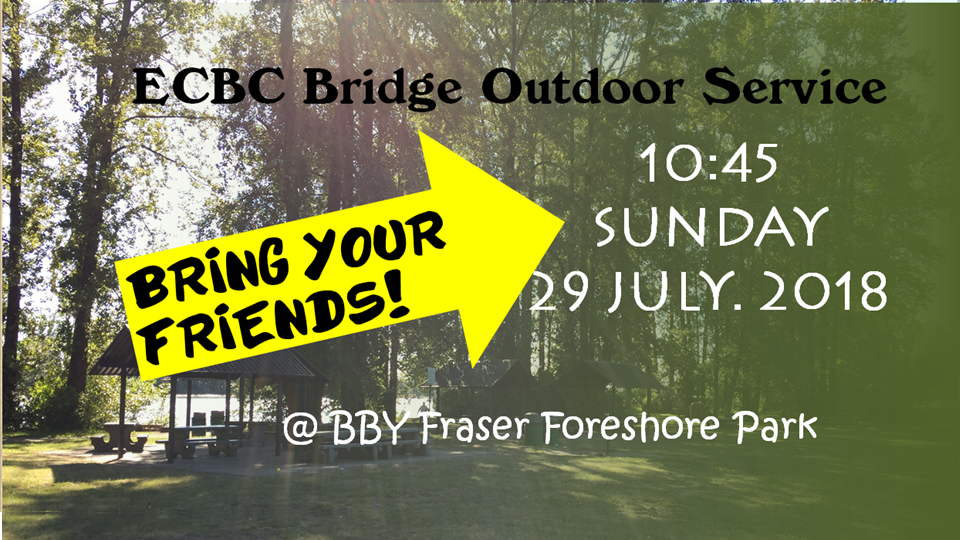 The Bridge Sunday Worship is going outdoor!
The Bridge is going to worship God in God's creation this coming Sunday, July 29. We welcome our brothers and sisters, and friends to worship with us at the Burnaby Foreshore Park at 10:45 in the morning. Please find us near the volleyball court in the park. Because of the limitation of the parking available, please do your best to park your cars at the ECBC parking then carpool to the park with your fellow Bridge Builders.
What to bring?
Lawn chairs, picnic blankets, bamboo mats, or anything makes you sit comfortably outdoor.
Foods, beverages, and snacks enough to feed your family and a little extra for sharing with others.
Bring a Bible if you have one.
If you have kids, bring some outdoor toys for them.
Sunscreen, straw hats, sun umbrellas, and anything that protects you from the scorching sun.
Outdoor toys for adults, such as beach volleyballs and frisbees.