Pastors of The Bridge Bilingual Church
吳欣迪牧師 Rev. Sunday Wu
Before becoming a Pastor, Pastor Sunday Wu was a commercial photographer, video producer, and owner of an online marketing business. He is currently the point Pastor of The Bridge Bilingual Ministry at ECBC Church. He loves to speak and sing about who God is and what He does both in English and Mandarin.
Contact Rev. Sunday Wu at 604-438-3222 ext. 212 or send an email to This email address is being protected from spambots. You need JavaScript enabled to view it..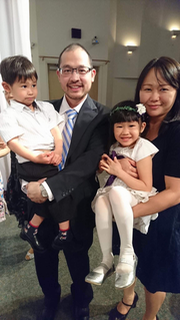 梁葵卿傳道 Pastor Iris Leung
I grew up in a big family and have four elder brothers, three sisters, and a younger brother. My family immigrated to Canada in 1993 from Hong Kong. I came to know Christ Jesus at the age of 12 when I was attending a Christian high school. I committed my life to Christ during my high school years, but I didn't practice the Christian faith until 1995.  I have been actively involved in various church ministries: worship, caring, preaching, and serving at the deacon board. I served in the finance board in the area conference level and organized annual training conferences for pastors and leaders. I also served as board member in an international non-profit organization, MCC, and a publishing organization, MennoMedia. I felt called to be in the ministry when I was going on in a mission trip in Ghana back in 2009. At the Revival Meeting held at ECBC in 2012, I dedicated my life to full-time ministry.
I started my seminary training at the Chinese Online School of Theology in 2010 and completed a diploma of Christian Studies in 2012. Then I graduated from ACTS seminary in 2015 with a Master of Christian Studies.
You can reach Iris by phone at 604-438-3222 ext. 203 or via email at This email address is being protected from spambots. You need JavaScript enabled to view it..